Internet of Things - latest statistics
- 8.4 billion connected IoT devices will be in use by the end of 2017, a 31 per cent increase from last year (Gartner)
- More than 6 billion devices will be embedded in our homes by 2021 (Cisco)
- 85 per cent of people believe that the world is set to become a more connected place than ever before (Pew Research Center and Elon University's Imagining the Internet Center)
- The worldwide IoT market will be worth $1.7 trillion by 2020 (IDC)
IoT: What's new
20/07 - NEWS - Microsoft further expands into IoT with smart thermostat - Cortana-powered GLAS thermostat will run on Windows 10 IoT Core, and looks to appeal to energy-efficient businesses and homes alike...
13/07 - FEATURE: Craig Foster/HomeServe Labs - Getting Smarter about Smart Home IoT - Persuading consumers to adopt smart home technology will be a challenge - here's how to overcome it...
10/07 - FEATURE: Marianne Mannschreck/Savi Technology - How smart sensors and the IoT will evolve supply chains - A look into strategies for overcoming adoption challenges within your organisation...
03/07 - FEATURE: Sukamal Banerjee/HCL Technologies - - IoT in the workplace is set to be a huge transformation for many, but what are some of the main issues holding back deployment and development?
30/06 - FEATURE - - With hardware prices falling, software could be the key to properly monetising the IoT, Canonical head tells ITProPortal...
29/06 - FEATURE: Maciej Kranz/Cisco - - IoT is a multi-year journey, not a one-time event. You need to make sure the first step on that journey is successful—or it will be a very short journey indeed...
23/06 - FEATURE - - Arbor Networks CTO Darren Anstee tells us why DDoS attacks are still very much a threat to your business...
19/06 - FEATURE: Chester Kennedy, BRIDG - - While the IoT affords many advantages by connecting the world, security risks pertaining to IoT are growing and rapidly evolving…
07/06 - NEWS - - The IoT industry set to continue growing, despite tangible risks, report claims...
To read all of our IoT news, click here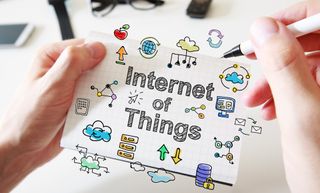 What is the IoT?
As the world around us embraces technology more and more, products and services are beginning to communicate with each other, connecting through the 'Internet of Things'.
Typically shortened to IoT, this vast network allows items to inter-connect and talk to each other, allowing for smarter processes that will greatly increase the quality of life around the world.
The Internet of Things is predicted to revolutionise the way in which we live our lives, with many industry experts tipping it to have the biggest technological impact since cloud computing.
Many consumers are already enjoying the benefits of the IoT, as popular products such as Amazon's Echo smart speaker and Google's Nest thermostat transforming homes around the world.
But businesses can also benefit from the IoT, as becoming smarter and more connected brings its own huge advantages. Companies should be able to streamline previously complex and data-hungry processes through improved automation, freeing up employees for other tasks.
With more connected devices in the home and workplace, more data than ever before can be collected, stored and analysed.
The biggest impact that the Internet of Things is likely to have, when implemented correctly, is efficiency. Rather than having to make decisions based on trial and error or having to conduct research, all the information you need should be readily available, sourced from the connected devices all around us.
As the network grows, more and more areas of our lives can enjoy the benefits of online connectivity, as embedding Internet connectivity into everyday objects we can open every facet of our lives to technological innovation.
IoT FAQs
Who are some of the big players in the Internet of Things (IoT)?
So far, the onus has been on getting the network infrastructure that the IoT needs up and running, meaning that companies such as Cisco, Intel and HPE have been heavily involved.
However as the potential and the reach of the IoT is so large, there is ample opportunity for companies of all sizes to become part of it. Even small start-ups can benefit from connected network technology, allowing them to quickly grow and prosper by connecting to the world around them.
As the cost of hardware decreases, especially in terms of sensor technology, the chance to get your products and services connected is easier than ever, meaning that the IoT will most likely continue to grow.
What can businesses expect from the Internet of Things?
Along with the multiple consumer benefits of the IoT, the new connected world will greatly be able to help companies of all sizes and in all industries. Using its huge gathering power, the IoT will help companies make better informed decisions by analysing and processing large amounts of data in shorter periods of time.
This then means that organisations can generate better insights about their employees, customers, equipment, clients and competitors, meaning a more efficient use of their resources.
Marketers will be able to create more targeted content, manufacturers will learn about potential faults in advance and healthcare professionals will get a clearer understanding of patient health.
How big can the Internet of Things be?
As mentioned, there is potentially no limit to the size and scope of the IoT. The current speed of development has surpassed many people's initial expectations, with billions of connections and smart products available today.
From homes to factories, from smart cars to farms, the IoT is already having a major impact on people's lives around the globe, with previously unthought-of sectors also getting smarter and more connected.
This is turn has led to the creation of huge business opportunities for companies working within the IoT, particularly in terms of providing the hardware and software needed to keep everything running smoothly.
And with the network only set to continuing growing and getting smarter, the size of the IoT will only increase over the next few years.
Is the Internet of Things secure?
The scale of innovation has meant that some IoT products have been pushed out onto the market lacking the proper security, as companies simple look to be the first to market. The networks themselves have also proved to be a popular target, as connecting key businesses and organisations handling valuable data also proves attractive to criminals.
However as with most new technology, the potential of the IoT has led to a swathe of companies, including both existing and new organisations, providing security solutions that look to secure both the network and the products it connects.
Securing thousands (or even millions) of connections is no small challenge, but as the IoT becomes a more nascent presence in our everyday lives, the need for effective protection becomes key.
Internet of Things resources
- Cisco Internet of Things Hub - Cisco has quickly become one of the key drivers of the IoT, and this site covers much of the company's work in this sector
- IoT Council - a news and alerts centre for the latest Internet of Things developments
- IoTUK - launched as part of the UK government's £32m investment in IoT last year, IoTUK seeks to advance the UK's global leadership in the IoT and increase the adoption of high quality IoT technologies and services throughout businesses and the public sector.