Apple's latest laptop (opens in new tab) has some stunning looks and a price to match.
Topping the scale at nearly GBP 1600 fully loaded, the MacBook Air gives back some glamour to the ultra expensive laptop segment, after months of press release deluge from the likes of the Asus EEE or the OLPC laptops.
The MacBook Air has been hailed by Apple CEO Steve Jobs as the world's thinnest notebook with a 13.3-inch screen that uses a LED backlight display and has a webcam built in.
The laptop is 19mm at its thickest and 4mm at its thinnest... So thin it is that Super Salesman, Steve Jobs, was able to fit it comfortably in a plain vanilla envelope on stage.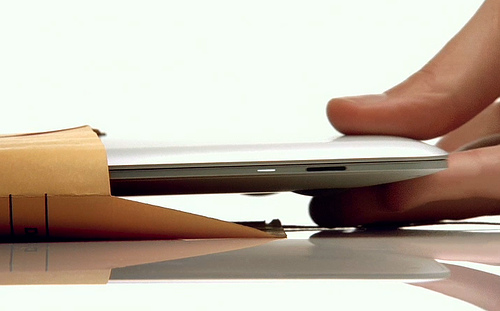 Photo By Appleseed (opens in new tab) from Flickr of the Macbook Air, Some rights reserved.
Other features that makes the laptop stands out of the crowd includes a full size, back-lit keyboard and a track pad with multi-touch gesture - like on the iPhone.
The laptop is powered by a Core 2 Duo processor flanked with 2GB memory, the choice between a 80GB 4200rpm hard disk drive or a 64GB solid state drive.
On top of that, the MacBook Air is the first mainstream laptop to come with 802.11n Wi-Fi and also sports the now standard magnetic latch.
However, packing so much technology into such a small volume means that there are a few features left out.
The laptop's battery is integrated and you will have to pay USD 129 to get it replaced; there's only one USB port and no Optical drive.
Jobs did mention though that the laptop would be able to use optical drives found in nearby PC or Macs.
It will be interesting to see when the laptop will be hacked to run Windows Vista or Windows XP.