Samsung continues to expand its Galaxy arsenal with devices of all shapes and sizes, and the latest to join the South Korean firm's line-up is the Galaxy S4 Mini. A cheaper counterpart to the Galaxy S4 and successor to 2012's Galaxy S3 Mini, the S4 Mini finally launched on 30 May ahead of an expected UK unveiling at the end of June. As with its ancestor, the hope is that the Galaxy S4 Mini will be competitive in the mid-range smartphone market, appealing to buyers not wanting to part with over £550 for a new handset. So how do the two namesakes match up? Let's find out.
Size and weight
As you would expect given its moniker, the Galaxy S4 Mini is the more diminutive of the two phones: it measures 124.6 x 61.3 x 8.94mm (H x W x D). The Galaxy S4, on the other hand, sizes up at 136.6 x 69.8 x 7.9mm. In other words, the squat build of the S4 Mini means that it has more girth than its taller, slimmer sibling. The S4 Mini is the lighter device, however, weighing a pretty featherlight 107g, compared to the full S4's 130g.
Display
Both devices sport Super AMOLED screens, with the just announced S4 Mini featuring a modest resolution of 960 x 540 pixels at 256ppi. By way of contrast, the Galaxy S4 (pictured, below) features a super-bright display with a Full HD resolution of 1,920 x 1,080 pixels at 441ppi. It's one of the best on the market and clearly superior to its pint-sized sibling.
Storage and memory
The Galaxy S4 packs 2GB of RAM and is advertised as coming in 16GB, 32GB and 64GB iterations; however, only the 16GB model is widely available in the UK at time of writing. It's worth noting that the Galaxy S4 has been criticised for its lack of user available storage - of the 16GB commonly found on-board, around 8GB is taken up by the apps and software that make up Samsung's native TouchWiz UI. For content hoarders, there is a microSD slot to hand - but apps can't be stored on it, as some owners have noted. The Galaxy S4 Mini also features expandable storage and 2GB of RAM, with the reduced form factor handset set to launch in an 8GB model - 5GB of which is thought to be user-available.
Processor
Performance can't be judged by chipset specifications alone, of course, but Samsung's quad-core Snapdragon 600 SoC is one of the more impressive sounding configurations out there. Clocked at up to 1.9GHz and featuring a Krait 300 CPU and Adreno 320 GPU, it's superior on paper to the S4 Mini's dual-core Snapdragon 400 set-up, which is clocked at 1.7GHz.
Software
Both devices come pre-loaded with the latest version of Android, 4.2.2 Jelly Bean, as augmented by Samsung's TouchWiz skin, which offers a range of new-fangled software features. Some users find these exciting and innovative, others denounce them as gimmicky and incomplete. The S4 Mini offers a stripped down version of this functionality - there's no room for eye-tracking features like Eye Pause and Eye Scroll, for instance, but S Translator, S Health, and a built-in IR sensor have made the trip down to the smaller handset. Ultimately, Android purists will likely fall for the Galaxy S4 proper or, rather, the 'Google Nexus' edition Galaxy S4 featuring stock Android that was recently unveiled at Google's I/O developer conference.
Camera
When it comes to photographic capabilities, the gap between the high-end Galaxy S4 and more mainstream S4 Mini (pictured, below) is fairly pronounced. The S4 features a 13-megapixel camera that - if not quite as capable as what's offered by the Nokia Lumia 925 or HTC One - is near the top of its class. The S4 Mini, by way of comparison, has an 8-megapixel primary snapper. Both sport closely-matched front-side shooters - 2-megapixels for the S4 and 1.9-megapixels on the S4 Mini.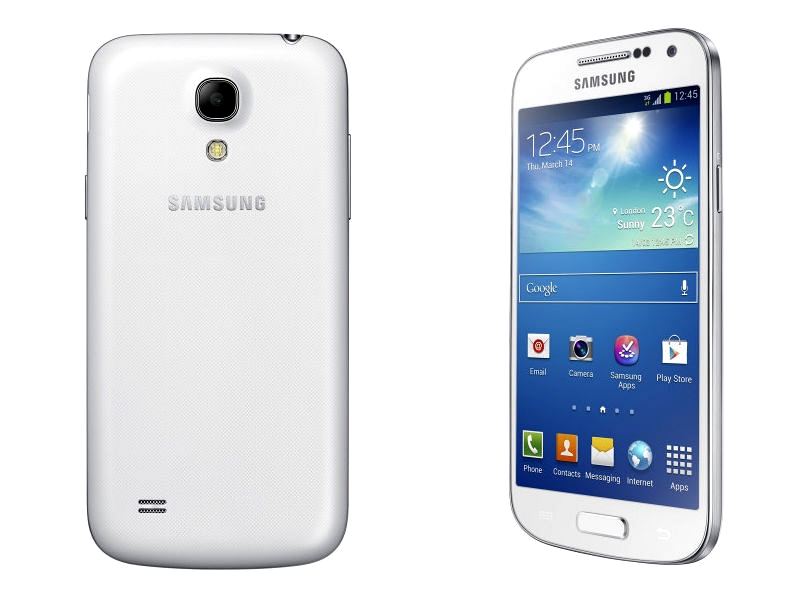 Battery
Samsung's Galaxy S4 packs a powerhouse 2,600 mAh battery. The S4 Mini is likely to prove less demanding in terms of power consumption and features a 1,900mAh battery. Neither device had been linked with a confirmed talk-time estimate at time of publication.
Connectivity and wireless
Both the Galaxy S4 and Galaxy S4 Mini come available in a few different models - for the purposes of this comparison, we've gone like-for-like and are comparing the LTE versions. However, both the Galaxy S4 Mini and its big brother can also be had with plain ol' 3G connectivity, presumably at a lower asking price. There's no room for built-in wireless charging on either device as yet, but NFC features on the S4 and should also be supported by the LTE S4 Mini variant that arrives in the UK in the near future.
Price, availability, and opinion
With its quad-core Snapdragon 600 configuration, full HD display, 13-megapixel camera and full suite of intriguing TouchWiz features, the Galaxy S4 is one the most impressive handsets currently available. There's no real benefit to dwelling on the fact that it's superior to its pint-sized, mid-range relative, the S4 Mini - that's sort of the point. Moreover, it should be clearly reflected in the pricing, with a Galaxy S4 selling for around £580 SIM-free, or coming free on contract from £33 a month; pricing and a UK release date for the S4 Mini have yet to be confirmed, but it's safe to say that the smaller smartphone will don a more modest price tag when it does arrive. A figure in the region of £350 seems a good punt based on experience. All will be revealed at Samsung's special London launch event in June, and we'll be in attendance covering all the developments on the night, so watch this space.
If it's a high-end device you're after, some of the showdowns you're probably interested in are:
Alternatively, if bang-for-your-buck is your top priority, the Galaxy S4 Mini is certainly an option, albiet one that doesn't quite measure up to the superb value Google Nexus 4, which costs just £279 for a 16GB model straight from the manufacturer. But you may even want to go further back in time still: our crack mobile reviewer Sandra Vogel thinks that the Galaxy S3 is still a great buy one year on. Share your thoughts via the comment section below.
| | | |
| --- | --- | --- |
| | Samsung Galaxy S4 LTE | Samsung Galaxy S4 Mini LTE |
| Display | | |
| Screen size | 4.99in | 4.3.in |
| Resolution | 1,920 x 1,080 pixels | 960 x 540 pixels |
| Pixel density | 441ppi | 256ppi |
| Type | Super AMOLED | Super AMOLED |
| Processor and battery | | |
| Family | Snapdragon 600 | Snapdragon 400 |
| CPU | Krait 300 | Krait |
| Cores | Quad-core | Dual-core |
| Clock speed | 1.9GHz | 1.7GHz |
| GPU | Adreno 320 | Adreno 305 |
| Battery | 2,600mAh | 1,900mAh |
| Claimed 3G talk time | TBC | TBC |
| Storage and memory | | |
| RAM | 2GB | 2GB |
| Internal storage | 16GB /32GB / 64GB | 8GB |
| microSD | Yes | Yes |
| Camera | | |
| Rear | 13-megapixel | 8-megapixel |
| Video | 1080p @ 30fps | 1080p @ 30fps |
| Front | 2-megapixel | 1.9-megapixel |
| Wireless | | |
| Standard | 4G LTE | 4G LTE |
| Wi-Fi | 802.11 a / b / g / n / ac | 802.11 a / b / g / n |
| NFC | Yes | Yes |
| Bluetooth | v4.0 | v4.0 |
| Integrated wireless charging | No | No |
| Dimensions | | |
| Size | 136.6 x 69.8 x 7.9mm | 124.6 x 61.3 x 8.94mm |
| Weight | 130g | 107g |
| Operating System | Android 4.2.2 Jelly Bean | Android 4.2.2 Jelly Bean |
| Price (SIM-free) | | TBC |