5G: What's new
What is 5G?
The GSMA has outlined eight criteria for 5G networks, with a connection needing meet a majority of these in order to qualify as 5G:
- 1-10Gbps connections to end points in the field (i.e. not theoretical maximum)
- 1 millisecond end-to-end round trip delay (latency)
- 1000x bandwidth per unit area
- 10-100x number of connected devices
- (Perception of) 99.999 per cent availability
- (Perception of) 100 per cent coverage
- 90 per cent reduction in network energy usage
- Up to 10 year battery life for low power, machine-type devices
03/10 - NEWS - Ofcom head slams UK 5G legal battles - Sharon White says court battle by 3 UK and EE could derail the "golden opportunity" offered by 5G...
25/08 - FEATURE - Robin Kent/Adax - 5G: are we trying to run before we can walk? - If service providers aren't prepared they could face not being able to carry the huge levels of traffic required by the host application to any and all of its possible destinations...
22/08 - NEWS - LTE pushed to new record speeds as 5G approaches - Verizon, Ericsson and Qualcomm break the gigabit barrier over LTE...
21/08 - NEWS - EE threatens legal action against UK 5G auction - High Court challenge follows EE complaint over alleged spectrum restrictions, as O2 and BT apparently team up ahead of auction...
31/07 - FEATURE - Caroline Dowling/Flex - 5 industries to gain the most from 5G - Although there are tremendous benefits to 5G, this new technology will take many businesses out of their comfort zones...
28/07 - NEWS - Apple to start testing 5G internet for future iPhones - FCC approval allows Apple to start work on experimental 5G technology in the USA...
25/07 - NEWS - Arqiva and Samsung kick off UK 5G trials - Launch of 5G field trials follows statement of intent earlier this year, with demos now live in central London...
21/07 - FEATURE: Why Intel is bidding to be the bedrock of 5G - 5G will offer businesses more opportunities than ever before, but you need to ensure you have the right hardware, Intel tells ITProPortal...
18/07 - NEWS - San Marino will be Europe's first 5G nation - One of Europe's smallest countries has revealed plans to be the first in the world to feature nation-wide 5G network coverage...
07/07 - NEWS - UK 5G trials set to start next year - Three UK universities are could begin testing of 5G networks in 2018 following the release of new government research funding...
05/07 - NEWS - 5G moves one step closer with EE Gigabit LTE network launch - Operator teams up with Qualcomm and Sony to show off first commercial Gigabit-speed LTE network, meaning faster download speeds for all...
19/06 - FEATURE: Jon Leppard//Future Facilities - No mobile tech trend is more 'edgy' than 5G - Data centre designers will map out the future of 5G, but sometimes adapting to these trends is easier said than done…
19/06 - FEATURE: Caroline Dowling/Flex - Five things business needs to know about 5G - The fifth generation of mobile network has been described as the backbone of this connected world…
13/06 - NEWS - 5G 'needs flexibility' in order to change the world - 5G networks will need to be more flexible than ever before in order to cope with a huge surge in connectivity, according to one of the UK's top experts...
07/06 - FEATURE: Hubert De Costa/Cradlepoint - A vote of confidence in the future of 5G - The 2017 UK general election coincides with a key period of development in the birth of the new 5G network - this is how development could be affected in the coming years...
17/05 - FEATURE: Hubert De Costa/Cradlepoint - The next generation WAN – where are we with 5G? - Described as the next-generation WAN, 5G has the potential to be as transformative as the introduction of electricity itself - but are they founded in fact?
12/05 - NEWS - O2 spends big to boost UK 5G network - O2 is set to spend £80m to improve the next-generation connectivity network across the UK capital as the world moves towards 5G...
To read all of our 5G coverage, click here.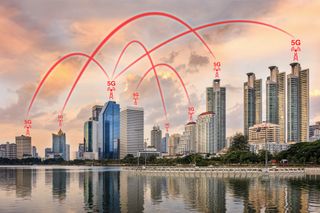 What is 5G?
5G networks are the next generation of mobile internet connectivity, offering faster speeds and more reliable connections on smartphones and other devices than ever before.
Combining cutting-edge network technology and the very latest research, 5G should offer connections that are multitudes faster than current connections, with average download speeds of around 1GBps expected to soon be the norm.
Although still a work in progress, and still lacking official standards or regulation, 5G networks are expected to launch across the world by 2020, working with existing 3G and 4G networks to provide businesses and consumers alike with speedier connections that stay online no matter where you are.
The benefits of 5G should also play a key role in helping developing countries get connected to the internet and enjoy the benefits that mobile connected technology brings. Estimates from mobile industry body the GSMA predict that 5G connections could number as many as 1.1 billion by 2025, with the associated networks covering a third of the world's population.
5G is more than just speedier smartphone downloads, however, as the technology could also be the key to creating a smarter, more connected world.
The use of higher density networks would allows for huge numbers of different devices to connect to a network and run all at once with little slowdown, meaning that it is perfect for the M2M technology needed to power the Internet of Things (IoT).
The IoT requires reliable and fast networks in order to process huge amounts of data and information, as well as carrying out thousands of calculations and decisions every second. 5G should provide the capacity needed to take the IoT to the next level, allowing for a smarter, more connected world around us.
5G FAQs
It's still not exactly known how much faster 5G will be than 4G, as much of the technology is still under development.
That being said, the networks should provide a significant upgrade to current download and upload speeds - with the GSMA proposing minimum download speeds of around 1GBps, and <10 ms latency.
This would mean that users could download a full-length HD quality film in a matter of seconds, and that downloading and installing software upgrades would be completed much faster than today.
The technology would also provide a number of upgrades in other services - for instance, video calls would be able to be carried out in much higher-quality, HD voice calls could be placed from anywhere in the world, and uploading high-quality content to the internet would become a much smoother (not to mention faster) process.
5G technology is expected to officially launch across the world by 2020. This is the threshold that most countries and network providers have set for the launch, but given the speed of investment and development in the technology, it may arrive even sooner.
Once launched however, implementing 5G may be a slower process. Much like the gradual takeover of 4G networks from the previous generation, existing network infrastructure may need to be upgraded or even replaced in order to deal with the new technology, and homes and businesses may also need to get new services installed.
Will my phone be able to get 5G? Or will I need to upgrade?
It's not yet known how 5G networks will take over from existing networks, but again, much like the rollout of 4G, you may not be able to immediately connect to the new networks without upgrading your technology.
Mobile devices that were released when 4G networks were the standard may not be able to connect to 5G to begin with, or may incur extra costs to do so. However following the initial rollout of 5G, we should soon see devices coming with 5G connection as default.
Although 5G should represent a major step up from current 4G and 3G networks, the new technology won't immediately replace its predecessor - at least, not to begin with.
Instead, 5G should link in with existing networks to ensure users never lose connection, with the older networks acting as back-up in areas not covered by the new 5G coverage.
But much as 4G has largely taken over from 3G as network coverage has widened, 5G should gradually become more widespread and eventually supplant the previous generation, with devices launching after 2020 expected to come with connectivity to the new networks by default.
5G is expected to provide much faster download and upload speeds than 4G networks, allowing for speedier streaming and downloading.
So-called "4.5G" networks (also known as LTE-A) are set to fill the gap for the time being, offering connections that are faster than current 4G networks, although only certain countries such as South Korea can benefit from them right now.
5G resources
- - the latest news about 5G from mobile industry body the GSMA
- 5G.co.uk - a repository of information concerning the UK's 5G rollout
- The 5G Era - GSMA report into the ideal situation for 5G