In case you missed it, we recently reviewed the (opens in new tab)Nokia 808 PureView phone, (opens in new tab) focusing entirely on its photographic credentials and performance from its 41-megapixel sensor. In this review, however, we bring you a greater emphasis on its features as a handset, with only a short breakdown of its camera functions. So without further ado, let's dive straight in.
Initial setup
Nokia has used Symbian for 12 years in one form or another, which has enabled it to streamline the set-up process for the first-time user - experience that has been put to great use in the 808 PureView.
Starting the handset for the first time presents you with various language options, followed by the options to either create a Nokia account or enter the details of an existing one. This is needed for downloading apps and gaining access to Nokia Maps. The latter provides free maps that can be downloaded and stored on the device so they can be used for GPS navigation without a data plan or network signal. The set-up process then gives two more options: transferring contacts, photos and messages from an existing Nokia mobile, and setting up an email account - all very simple to do.
(opens in new tab)However, the company hasn't fully utilised the online Nokia account in my opinion. It should be used to back up messages, images, apps and settings into a cloud-based account. Other phone manufacturers offer a service similar to this and also have web portals for locating and remotely wiping a lost or stolen phone. This, along with online back-up and restore, would be worthy additions to the Nokia service.
Design
The design of the Nokia 808 PureView isn't cutting edge by any means. In fact it looks dated, perhaps because it's been five years in the making (opens in new tab)? This could also explain why it's running Symbian (Nokia Belle), rather than Microsoft Windows Phone, even though Nokia has now adopted the latter for its flagship smartphones.
From the front, it looks similar to the Nokia C7 (opens in new tab) and measures 60.2 x 123.9 x 13.9mm (WxHxD). It also weighs around 169g, making it relatively heavy - around 30g more than an iPhone 4S or Samsung Galaxy S3. This is down to the materials used. Stainless steel plays a large part in the phone's chassis, and the screen's Gorilla glass does add some weight. The flash and recessed camera lens are also protected by a stainless steel bezel, with Gorilla glass over the lens.
A volume rocker that doubles up as a zoom control for the camera is located on the 808's right side along with the lock key and dedicated camera button. On the top is a micro-USB data and charging port, a 3.5mm audio socket and a micro HDMI port with its own cover. The cover is a welcome addition as it clearly identifies the port, so that you don't try and plug the charging lead into it.
slideshow#293 (opens in new tab)
Next Page > Hardware
Hardware
The Nokia 808 PureView has a 4in, AMOLED, capacitive touchscreen with a 640 x 360 resolution. It is bright, clear and displays vibrant colours, despite the relatively low resolution. The display also uses Nokia's ClearBlack technology, which limits reflections from the screen with a number of polarising layers.
The display cover glass also has a so-called "2.5D" curve that gives it a rounded shape along the edges, whereas the phone's long form factor allows the touchscreen to be easily used with one hand. The 808's bulging rear could put off some people, but I found it comfortable to hold.
Powering the device is a single core ARM 11 1.3GHz processor. Nokia has used this chip in a great deal of its mobiles and the Nokia 808 PureView is the fastest Symbian-based device it has produced. It was certainly nippy in use. I saw no lag, but it did occasionally reboot, although this was resolved after installing a stability update to the platform. The chip is supported by 512MB of RAM, with 16GB of internal storage that can be expanded by adding a 32GB microSD card - crucial storage space for a photography-focused phone.
(opens in new tab)The Nokia 808 PureView's key feature is of course its 41-megapixel camera. The large 1/1.2in Toshiba sensor, Carl Zeiss lens, clever pixel oversampling (pixel-binning) algorithms and associated lossless zoom factors, all combine to make what is undoubtedly one of the best cameraphones out there - good enough even to replace some compact cameras. However, I digress. For a detailed look at the 808's camera's operation and performance, please check out our separate review (opens in new tab). (I've also included some test photos on page 4, taken at the 808's various resolutions and aspect ratios).
Ok, so what to do with the photos after you've captured them? One useful feature is that they can be quickly saved as compact versions, ideal for emails and speeding up upload times to social networking sites (while also reducing the impact on your tariff's data allowance).
Nokia has also included a handy crop tool that enables you to zoom into a large photo and crop out a scene or feature in order to save it as a separate photo (I used this to crop out the seagull in my test photos).
Moving on, the phone can record audio at CD compression levels, under the name of Nokia Rich recording. Previously, this was only possible with the aid of an external microphone. Furthermore, Dolby Headphone technology (for turning stereo content into 'virtual' surround sound audio for headphones) and Dolby Digital Plus (for piping 5.1-surround sound over HDMI) are both embedded into the 808 PureView's Nokia Belle feature pack 1 operating system.
The call quality and signal strength obtained with the phone were good, and on par with our comparison Samsung Galaxy S II. There was a slight issue with the power-saving mode and signal restoration. This feature is selectable by pressing the power button on the mobile. Deselecting this option didn't immediately restore a mobile signal. On occasions, I had to reboot the handset, just to regain a network connection.
Next Page > Operating system, Battery life and Verdict
Operating System
As already mentioned, the 808 PureView runs the Nokia Belle feature pack 1 operating system. Belle was first seen on the Nokia 700 (opens in new tab) from 2011. It has more of an Android feel than any OS Nokia has used in the past. This is reflected in the way the pull-down taskbar offers up quick access to the mobile data, Wi-Fi, Bluetooth and silent features. The Android look has been carried across to the application's menu and the six customisable home screens. Belle's app menu has now been laid out with all its contents on one flowing screen. In the past Nokia has opted for a folder structure, with all the apps, handsets' settings and functions located within those.
The range of customisable widgets have been expanded in Belle to offer five versions that can all contain more scrollable information than before. This is all a little too late though. Nokia has dropped Symbian just as it is starting to mature.
The gallery has been improved in this version of the OS. The most obvious enhancement is that all the pictures are separated by the date they are taken, and categorised as such. From here, you can upload images directly to Flickr and Facebook, but not Twitter. This is despite Twitter being integrated into the social networking software of the handset, which combines' feeds from those two services. On that note, there seems to be inconsistency here. Adding Facebook details to the social networking app doesn't guarantee it's remembered elsewhere on the 808, as I had to manually add it once more for uploads.
(opens in new tab)Besides the usual wide range of email accounts and the expected Nokia Maps, music player and public transport app, there are some Microsoft additions. Showing the ever-growing integration with the Seattle software giant is the SkyDrive app. This can automatically upload all the captured pictures to an online account, which has 7GB of storage. This does get around the lack of a cloud-based backup service, but that would have still been useful.
There is also the Microsoft Office Mobile for Symbian. Here you can create Word and Excel documents while being able to view PowerPoint and PDFs, too. Some other additions to the software catalogue of preinstalled apps are ColorizIt for image manipulation and Silent Film Director, which creates an old-style film. Rounding off these is JokiuSpot, which turns the phone into a MiFi device, which Symbian Belle can't do natively.
Battery Life
A big battery usually powers a big mobile phone. However, Nokia has opted for a smaller one, both in size and capacity. It's a 1,400mAh battery, smaller than the 1,830mAh one used to power the Lumia 900 (opens in new tab), and this is reflected in the results of my tests.
I benchmarked the 808 PureView for real-world usage by running email and social networking apps in the background while calling another handset – during the working day. Two Gmail accounts were used - a personal and a corporate one. These pulled in over 100 emails, while Facebook and Twitter had updates coming in from over 650 and 1,650 people, respectively.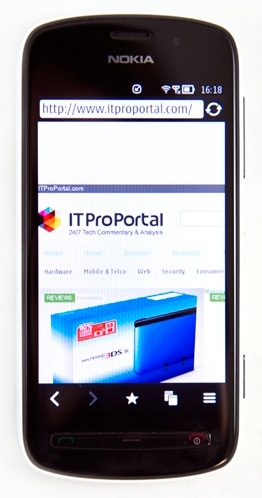 (opens in new tab)
In my first test, the phone managed to make around 245 minutes worth of calls, before shutting down. In the next test, it lasted around 258 minutes, and for the final test it managed to last around 289 minutes.Based on these results, the Nokia 808 PureView would not last a full working day with heavy use. Obviously with lighter use it might.
My reviewer's kit came with Nokia's DC-16 Universal Portable USB charger. This is a cylindrical external 2,200mAh rechargeable battery complete with USB to micro-USB charging cable. I came to rely on this during the review and would therefore highly recommend it. Also available is a hardcover with a lens cap.
Verdict
As a cameraphone, Nokia has raised the bar massively with its Nokia 808 PureView handset - there's nothing quite like it at the moment when it comes to phone/camera convergence. However, it's only likely to appeal to users who are prepared to ditch their old compact cameras to avoid carrying around two devices. And those users will have to be prepared to fork out around £500 (it was not available on contract at the time of writing) for a handset that isn't great in the battery department, has a screen with a mediocre resolution and an operating system that has been dropped in favour of Microsoft's Windows Phone.
Nokia may well be testing out the waters with the 808 in the same way it did with the MeeGo-based N9 handset. That mobile shipped with an OS that really wasn't going to make a big splash in the market. In fact, it was the only phone ever to go on sale with that platform. However, the N9's design and underlying hardware were a template for the Windows Phone Lumia 800 and 900 and with Nokia confirming that the PureView technology will feature in its upcoming portfolio, we could see this camera tech in a Windows 8 phone - perhaps finally nailing that sweet-spot between good phone and good camera?
Next Page > Test Photos
Test Photos
Nokia 808 PureView - Automatic camera setting
Click to see full size. (opens in new tab)
Nokia 808 PureView - 8-megapixel camera setting with PureView
Click to see full size. (opens in new tab)
Nokia 808 PureView - 5-megapixel camera setting with PureView
Click to see full size. (opens in new tab)
Nokia 808 PureView - 3-megapixel camera setting with PureView
Click to see full size. (opens in new tab)
Nokia 808 PureView - 34-megapixel 16:9 camera setting
Click to see full size. (opens in new tab)
Nokia 808 PureView - 38-megapixel 4:3 camera setting
Click to see full size. (opens in new tab)
Nokia 808 PureView - cropped picture from the 38-megapixel image
Next Page > Specifications
| | |
| --- | --- |
| Manufacturer and Model | Nokia 808 PureView |
| Network | GSM 850/900/1800/1900 HSDPA/HSUPA |
| Processor | 1.3GHz ARM 11 |
| Memory | 512MB RAM, 16GB ROM |
| Memory expansion | Yes - microSD |
| Display | 4in, 640 x 360 pixels |
| Main camera | 41-megapixel (38-mepapixel effective) |
| Front camera | 640 x 480 pixels |
| Wi-Fi | Yes |
| GPS | Yes |
| NFC | Yes |
| Battery | 1,400mAh |
| Size | 60.2 x 123.9 x 13.9mm (wxhxd) |
| Weight | 169g |
| OS | Nokia Belle (Symbian) with feature pack 1 |