The DTR-T1000 is the first set-top box for YouView, the long-awaited TV platform that brings together digital terrestrial TV and streamed on-demand content.
But this isn't just any old set-top box. It's a fully-fledged twin Freeview tuner PVR with a capacious 500GB hard disk. That means you can watch programmes live, record them to watch later or stream programmes retrospectively from BBC iPlayer, ITV Player, 4OD or Demand 5, with everything being accessed from a single, unified EPG.

It's not a new idea – Sky and Virgin Media offer a similar combination of live and on-demand content, while Smart TVs have online video streaming – but YouView is yours for a one-off fee and is designed to encourage less tech-savvy viewers to embrace the online streaming phenomenon.
Design and connections
Many PVRs are simply dull black boxes, so it's good to see Humax making an effort with the DTR-T1000. The bodywork is sleek and stylish, with a gloss black finish, gentle curves and a minimal fascia giving it timeless living-room appeal.

A wide display panel displays the full channel name, or the name of the programme being played from the HDD. A blue ring of light in the middle adds a touch of pizzazz, while a few buttons are provided for up-close control. There's a USB port too, but sadly it can't be used for media playback – although Humax says it may activate this in the future with a firmware update.
On the back you'll find an HDMI port, as well as old-school Scart, composite and analogue stereo outputs. They're joined by optical digital audio out, Ethernet and another USB port, which can be used for Humax's Wi-Fi dongle.
The lack of built-in Wi-Fi is this product's single biggest let-down. Yes you can buy an optional adapter or use Ethernet but that's at odds with its user-friendly ethos.
This disappointment aside, the DTR-T1000 is fairly well specced. Both the on-board tuners are Freeview HD, and with a 500GB hard disk you can store 300 hours of standard-def recordings or 125 hours of hi-def.
With two tuners you can record one channel while watching another, and even record two channels while watching a third or streaming online content. Additionally it offers everything you'd expect from a Freeview PVR, such as pausing live TV, series/split recording, green button trailer booking and playback of a programme while it's still being recorded.
Operation
Aside from the lack of Wi-Fi, everything about the DTR-T1000 oozes ease of use. You get all the cables you need in the box and setup is a cinch thanks to the plain English onscreen wizards. These tune TV channels and connect to the web so the TV viewing can begin as quickly as possible.
But it's the other onscreen menus that make operation such an easy and engaging experience. This particularly applies to the EPG, which seamlessly integrates online content. It expands over a 15-day period, going back seven days into the past and eight days into the future. Programmes over the past week that are available online (currently only shows on BBC, ITV, Channel 4 and Five) can be accessed within the programme grid – it jumps to the relevant online player when selected. Otherwise you can look ahead and schedule recordings in the same way you would on a regular PVR.
Its layout is excellent – the programme grid is large, which in turn makes the text easy to read, while live TV plays in a box at the top. If you don't fancy delving into the full EPG, hit the Info key on the remote and you get a detailed programme synopsis, although it only works for the programme you're currently watching.
Playing online content is a little higgledy-piggledy given the different GUIs used by each provider, but it's not difficult to adapt. You can set the box to prioritise the HD version of a programme if your broadband speed is fast enough (Humax recommends 3Mbps minimum).
The Home screen is another great-looking display, running the options along the bottom of the screen so you can keep an eye on live TV. The graphics are crisp and modern without going OTT, and it allows you to access recordings (MyView), the EPG and the setup menu.
Additionally you can visit an area dedicated to online content, bypassing the EPG. All of the online players are found here, but you can also filter content by genre or search by keyword – the results are displayed with photo thumbnails and tells you how many episodes it's found.
Finally the remote keeps with the user-friendly theme, sporting large, thoughtfully arranged buttons and an ergonomic curved shape.
Performance
The DTR-T1000's picture quality is superb. Naturally, HD channels bring out the best in this box – it draws every scrap of detail and colour from the source broadcast and throws it all on screen.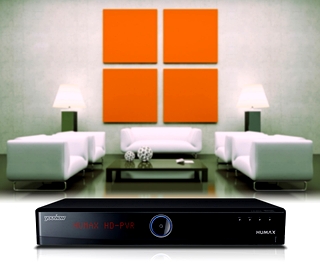 Bright studio fare like The One Show looks sumptuous, with its vibrant colours and sharply rendered detail combining to create an image that really dazzles. More testing stuff like football coverage shows the Humax can keep its head with fast moving action, keeping motion artefacts mostly at bay. And the best part is that these images are stored in identical quality on the hard disk.
SD channels obviously don't have the same gobsmacking power as there's a little more noise surrounding moving objects and a slightly smearier look to skin tones, but these pictures remain thoroughly enjoyable to watch.
We had no trouble with the box's online performance over an Ethernet connection. In fact our only gripe is having to sit through the adverts on ITV Player and 4OD. All of the videos we tried streamed smoothly without any buffering breaks or lengthy drop-outs. Although it varies from programme to programme, picture quality is generally decent, particularly when watching the HD stream – only a little shimmering noise over movement reminds you it's not a live broadcast. We can't vouch for its Wi-Fi performance, as we weren't supplied with a dongle.
The box is also fast in operation, skipping from menu to menu instantly and loading digital text in a flash. Even the expanded EPG responds quicker than some rivals' eight-day versions.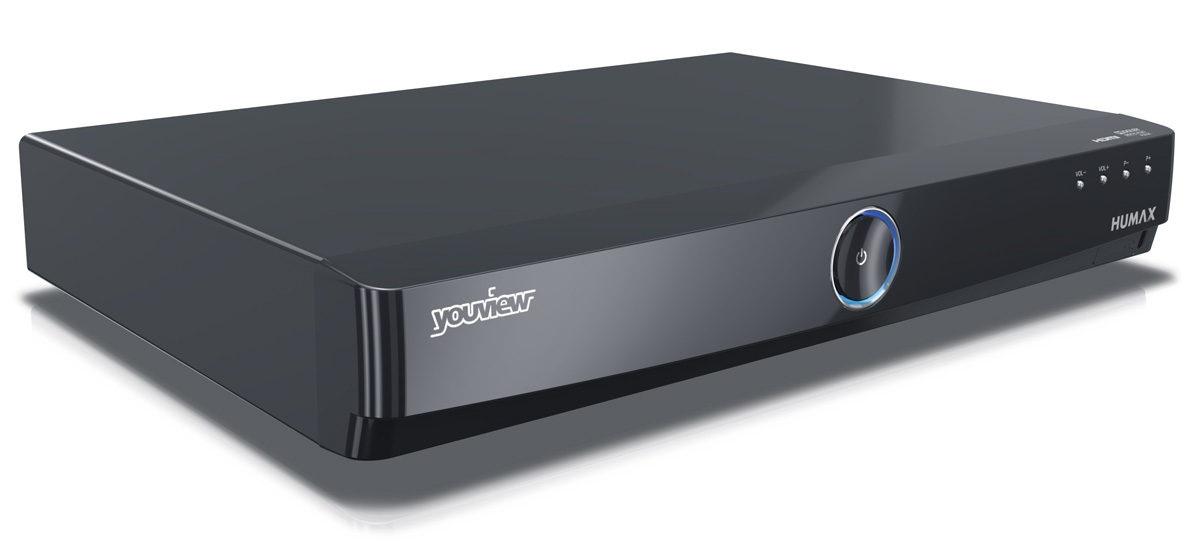 Verdict
Overall the DTR-T1000 is a wonderful introduction to YouView, seamlessly combining its regular digital TV and online content within an attractive and intuitive GUI.
But even without the online stuff this would be a killer PVR, with a sizeable 500GB hard disk and twin Freeview HD tuners that let you watch a third channel while recording two others – a rare talent. Live and recorded picture quality is excellent and there's no operational sluggishness to hold you back.
My only complaint is that there's no Wi-Fi on board, but I'm sure that's something Humax is working on for the next generation – and when it does it will be a truly irresistible proposition. But as it stands the DTR-T1000 is still a killer product.
| | |
| --- | --- |
| Manufacturer and model | Humax DTR-T1000 |
| Tuner(s) | 2 x Freeview HD |
| Hard-disk capacity | 500GB |
| HDMI output | 1 |
| Max. recording time (HD/SD, hours) | 129/300 |
| HDMI output | Yes |
| Component video output | No |
| Composite video output | Yes |
| Ethernet | Yes |
| Digital audio outputs | 1 (optical) |
| USB port | 2 |
| SD card slot | No |
| Built-in Wi-Fi | No (requires USB adapter) |
| iPod/iPhone support | No |
| DLNA media streaming | No |
| Smartphone control | No |
| Online content | BBC iPlayer, ITV Player, 4OD, Demand 5, Now TV |
| 3D ready | No |
| 2D-to-3D conversion | No |