The 46in KDL-46HX753 is one rung down the range ladder from the brilliant KDL-46HX853, which we reviewed recently. This version is about £250 cheaper and lacks some of the 853's frills but the other key features are present and correct, such as an edge-lit LED panel, Internet content, 3D support and a built-in Freeview HD tuner.
Design and connections
The KDL-46HX753 sports a radically different design to the HX853, mostly due to the use of an Easel Stand instead of the Monolithic version. This is basically a metal bar that screws onto the bottom of the set and can be twisted vertically and horizontally. It's an interesting and surprisingly elegant mounting solution.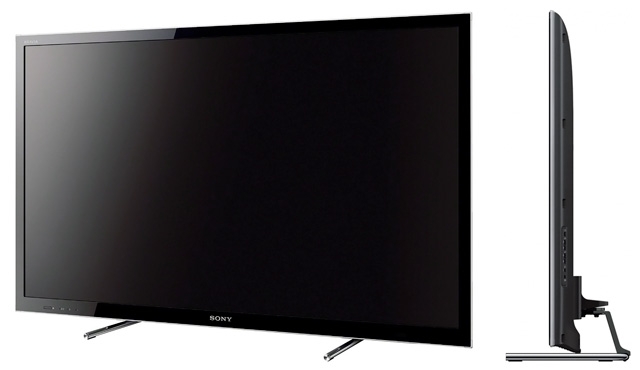 Elsewhere the KDL-HX753 is a good-looking set with a slim(ish) black bezel around the screen and a thin silver rim around the edge. The wow factor isn't quite there but it certainly won't bring shame on your living room either. It's a little bulkier than we've come to expect from LED TVs though, with its chunky back section contributing to a 60mm overall depth.
Connections are plentiful. There are four HDMI inputs – two downward-facing, two on the side – plus component, Scart, Ethernet, optical digital audio out, PC input, a common interface slot for pay TV and two USB ports. These can be used for playing back music, video and photos as well as recording programmes onto an external HDD.
Features
The KDL-46HX753 is rammed with smart features, which can be accessed through the LAN connection or through the built-in Wi-Fi. It's great that you don't have to buy a pricey dongle to get online wirelessly, but that's only right at this price.
Once connected you can access the Sony Entertainment Network (SEN), which offers one of the best selections of online content on the market. Crucially Sony focuses its attention on video services – which is what buyers really want to see on their smart TV – as opposed to games and puzzles. As such you get YouTube, BBC iPlayer, Demand Five, BBC News, Sky News, Netflix, BBC Sport, Love Film, Eurosport... the list goes on. But it's backed up by a healthy array of other music and social networking apps (Twitter, Facebook) plus the inevitable deluge of Sony's own content. You can also browse the web at large using the built in Opera browser.
The TV can also stream music, video and photos from servers on your home network. This DLNA certified set uses Sony's Homestream software to carry this out. You can also use Skype if you purchase the optional voice control camera, and smartphone users can ditch the remote and use the free Apple/Android app instead.
It's also 3D ready using the active system, although you have to buy the glasses separately. At around £70 a pop (model number: TDG-BR750), that could be quite pricey if buying for all the family.
In terms of processing, this edge LED backlit set has Sony's X-Reality picture engine at its heart, with MotionFlow XR 400Hz aiming to suppress motion blur and ensure smooth movement (but the actual refresh rate is 200Hz).
Operation
Although it's by no means the slickest or prettiest operating system we've encountered, the HX753's GUI is still easy to use. Hit Home on the remote and the screen shrinks down to a smaller box on the left, with the menu options below and to the right of it.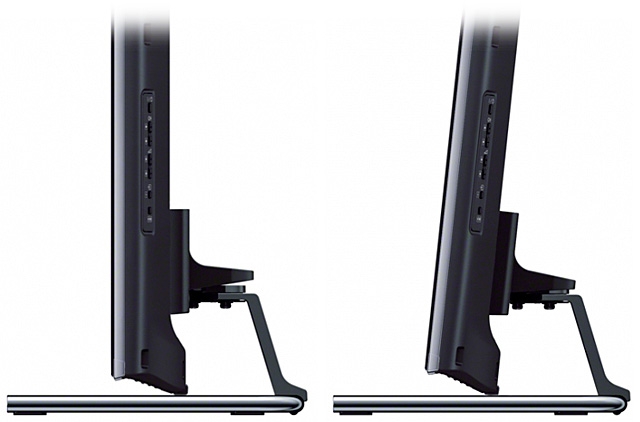 It covers every conceivable angle, to the point where some options are unnecessarily repeated – there are about three different ways of accessing web content, for example. And certain things that you'd expect to be easily accessible are buried.
The options are denoted by some beautifully designed icons with a stylised simplicity. As they scroll smoothly along the bottom, the relevant submenu shoots up the side. It offers access to the setup menu, Sony Entertainment Network, widgets, inputs, recordings, TV channels and so on.
The EPG is superb. Not only does it boast jazzy graphics and fonts, but it's also laid out with maximum convenience in mind. The programme grid shows eight channels at a time, the colour-coded options and quick access keys make it a cinch to move around and the synopsis is constantly displayed at the top of the screen. There's even a screen showing live TV as you browse – what more could you want?
On the downside the information banner limits you to viewing now and next details on the current channel only, leaving the full EPG as your main channel surfing tool.
Elsewhere the Sony Entertainment Network is easy to access (there's a dedicated button on the remote) and just as easy to use. The key to its success is the layout, which splits the plentiful content into Apps, Video, Music and Favourites, all represented within a grid of large thumbnails. Live TV continues to play on the left of the screen, below which are Twitter updates (or a clock if you're not a social networker).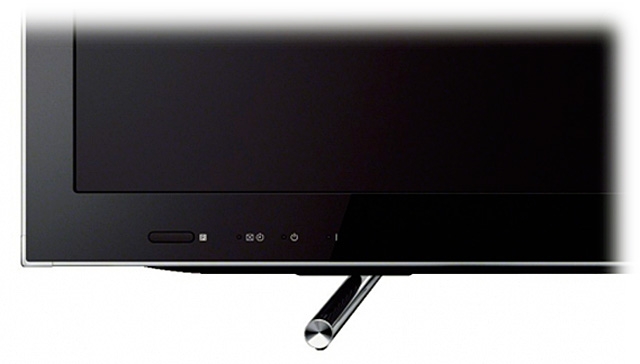 I also downloaded Sony's Homestream software for Windows and it worked a treat, streaming my collection of music, video and photos with minimum hassle. It could be argued that having to install Homestream is too much faffing about but I don't mind if it works as well as this. I was able to play AVCHD, DivX, XviD, MP4 and WMV (including, weirdly, some very old WMV clips that no other device I've tested has managed to play).
If you want to change a setting without going into the full setup menu, an Options key on the remote brings up a scaled-down menu with frequently used items.
Picture settings are pretty detailed, going beyond the vanilla stuff. You can tweak the gamma level, adjust the blue, red and green parts of the picture individually and flick the various processing modes on and off.
It's all controlled using one of Sony's tried and trusted remotes, with a sensibly-placed multi-direction pad and the often-used buttons in a ring around it. Key features like 3D, SEN and the EPG are clearly marked. The black keys at the bottom all look a bit similar but good labelling means you don't have to gawp at it for too long.
Performance
Although it can't quite reach the heights of the KDL-46HX853, its HX7 stable mate is still a highly accomplished set. First impressions are terrific – running a variety of Blu-ray discs through it I was instantly struck by the crispness and vibrancy of the images, even if they don't seem quite as bright as the HX853.
This is most apparent with discs like Avatar or Monsters Inc., which positively burst from the screen with gorgeous colours and scintillatingly sharp detail. The pictures are punchy, which is thankfully the case whether you're watching movies with the curtains drawn or watching Freeview during the day.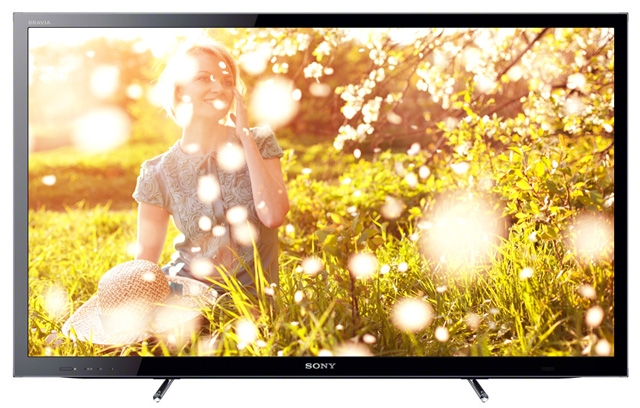 Colours look superb across the board, pitching them right in the sweet spot between natural and powerful, while subtle blends and shading are handled with smoothness.
Switch to something a little moodier like The Dark Knight, and the HX753 continues to hold its own. Its many light-starved scenes, like the dramatic night time vehicle chase, look solid, and the Sony makes it easy to pick out detail and identify dark objects set against even darker backgrounds.
Provided you carefully tweak the contrast, brightness and backlight settings, it's possible to make blacks look real, helping to deliver the deep, filmic feel that movie lovers crave – and there's little mist to rain on the parade. There is a bit of backlight bleed in the corners but nothing that'll spoil your enjoyment.
Motion also causes the HX753 a bit of bother, throwing up some artefacts and judder and dropping the resolution of quick moving objects. It's no disaster, just something to bear in mind. Some of the picture-processing modes help matters, particularly the Clear setting.
We're also impressed by the set's 3D performance. Again there's a gulf in class between this and the HX853 by virtue of the step-up set's better brightness, sharpness and black level, but this model still has the prowess to put some rivals to shame. There's no motion blur or crosstalk, which leads to a very sharp, clean-looking picture with a brilliantly pronounced sense of depth. It's entrancing. The only downside is the usual drop in brightness through the glasses, which takes away some of the punch – but that goes for most active 3D sets.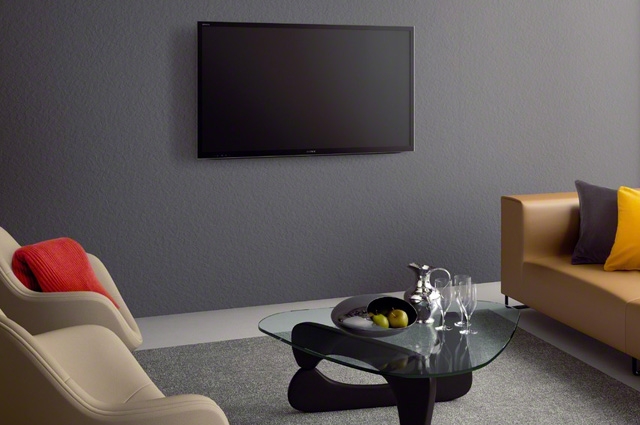 Finally, Freeview performance is pleasing. Obviously HD channels bring the best out of the set, looking as clean and crisp as you'd hope. Watching a glut of Olympics Athletics coverage we marvelled in the way it resolves faces in the crowd, the texture of grass and other fine details. It brings shots of the Olympic Park to life and makes the athletes' multi-coloured outfits blaze from the screen. It also keeps sprinters looking clear with only the slightest hint of motion blur.
Standard definition pictures have more of a 'haze' about them, with mosquito noise buzzing about over areas of intense detail, but stay eminently watchable. The most impressive aspect is its colour handling – skin tones look life-like.
Sound
Audio-wise the KDL-46HX753 isn't bad at all. There's a nice balance to the sound, with crisp treble, clear, full-bodied speech without excessive sibilance, and some evidence of bass bursting through. That makes it a great bet for day-to-day TV viewing and it even makes a good fist of movie material, although more bass is needed to really stir the cinematic emotions. There are bass, treble and surround adjustments in the setup menu if you want to tweak the sound further.
Verdict
It can't quite match the majesty of the KDL-46HX853, which ultimately offers better picture quality, but the KDL-46HX753 makes a decent alternative if you can't quite stretch to that £250 premium.
Picture quality is pleasing no matter the source and there are plenty of features to get your teeth into – most impressive of which is the Sony Entertainment Network. And with terrific format support, DLNA streaming, loads of connections and built-in Wi-Fi you're really getting a lot for your money.
The design and overly convoluted Home menu are minor blots but overall there can be few complaints about the general quality of this LED set.
Next Page > Specifications
| | |
| --- | --- |
| Manufacturer and model | Sony KDL-46HX753 |
| Screen size (inches) | 46 |
| Resolution | 1,920 x 1,080 |
| Backlight technology | Dynamic Edge LED |
| Picture engine | X-Reality |
| Digital tuner | Freeview HD |
| 3D ready | Yes |
| 3D technology | Active |
| 3D glasses supplied | No |
| 2D-to-3D conversion | Yes |
| Wi-Fi | Yes (built-in) |
| Online content | Sony Entertainment Network |
| DLNA streaming | Yes |
| Smartphone control | Yes |
| Contrast ratio | Over 1,000,000:1 |
| Brightness | Not given |
| Refresh rate | Motionflow XR 400Hz |
| Speaker power | 20W (2 x 10W) |
| Energy efficiency class | A |
| Dimensions (with stand, W x H x D) | 1,076 x 670 x 241mm |
| Dimensions (without stand, W x H x D) | 1,076 x 652 x 60mm |
| HDMI | 4 |
| Component | 1 |
| Composite | 1 |
| Scart | 1 |
| Digital audio output | 1 (optical) |
| PC input | 1 |
| USB | 2 |
| SD card slot | No |
| Ethernet | Yes |
| CI slot | Yes |