The Yamaha BD-S473, the company's latest entry-level 3D Blu-ray player, doesn't seek to dazzle you with flashy Internet portals and gimmicky design flourishes – it's an honest-to-goodness deck designed to do as intended: to play hi-def movies.
That might make some people stop reading right there; others will find it music to their ears. But with a price tag of around £150, Yamaha might even have a job convincing the latter to choose this deck over cheaper and more generously specced rivals.

(opens in new tab)
Design and features
The look is unmistakably Yamaha – black as night, clean lines, round buttons and distinctive symbols. That makes it a perfect match for its similarly sleek AV receivers.
It's not stunning by any stretch of the imagination, but definitely classy and understated. It's also slim and sturdily built, boasting rigid aluminium casing and a thick fascia panel.
On that fascia is a small LED display, a disc tray hidden behind a flap that drops down when it opens, and a USB port. The inclusion of just three buttons keeps things nice and minimal.
The rear panel is emptier than Justin Lee Collins' work diary. You get an HDMI output, Ethernet and second USB port, which is pretty much all you need these days but it's a little surprising not to find a set of analogue stereo or digital audio outputs – I guess Yamaha is banking on most people owning HDMI-equipped AV receivers by now.
The dual USB ports allow you to use one for media playback from storage devices, and the other for Yamaha's optional Wi-Fi dongle (YWA-10). There's no built-in memory for BD Live so one of the ports will need to be used for that purpose too.
The Yamaha BD-S473 has a few network tricks up its sleeve but lacks built-in Wi-Fi, which means you have to connect via Ethernet or buy the Wi-Fi dongle to access them (approx £80).
If you do, you can stream media files from servers on your network thanks to its DLNA certification. There's a healthy list of supported files – MKV, MPEG PS, MPEG TS, MPEG-4, VOB, AVI, ASF, WMV, AVCHD, MP3, WMA, AAC, WAV, FLAC, JPEG, GIF and PNG – all of which can also be played from USB devices.

(opens in new tab)
The Yamaha BD-S473 also features YouTube Leanback, a simplified version of YouTube that makes it easy to browse the site's vast collection of videos. This online selection is no match for Samsung's Smart Hub or Panasonic's Viera Connect, but it's good to see Yamaha making a small concession to the connected revolution.
As a Blu-ray player the Yamaha does everything you'd expect. It plays 3D discs, outputs at 1080/24p, sends Dolby TrueHD and DTS HD Master Audio bitstreams to your AV receiver and converts those formats to PCM over HDMI if needed.
Operation
Using the Yamaha BD-S473 is straightforward enough. An installation wizard tackles the key settings when you first fire it up, and the menu presentation is clear and logical, if a little basic.
The sparse Home menu displays Media, Setup, Quit and YouTube icons on a grey background, while the Setup menu is a little jazzier, with icons along the top and options in the box below (coincidentally the same design as Toshiba's Blu-ray players).
The remote is simple to use thanks to the sensible button layout, which places the menu controls and playback keys within easy reach. It also gets thinner towards the bottom, which makes it comfortable to hold. Some of the buttons are too small and the Home button isn't prominent enough though.
Performance
With such a limited list of features, performance has to be spot on, and thankfully it is. The Yamaha BD-S473 dishes up delicious 1080p pictures, packing the screen with sharp, lucid detail and effulgent colours.
I tried a range of discs from the creepy, dimly-lit Super 8 to the kaleidoscopically-coloured Charlie and the Chocolate Factory and the deck handles them with equal aplomb.
Dark scenes aren't a problem thanks to the beautifully judged contrast, which allows detail to remain visible among the shadows of the alien's underground cave, while making the image look consistently solid and cinematic.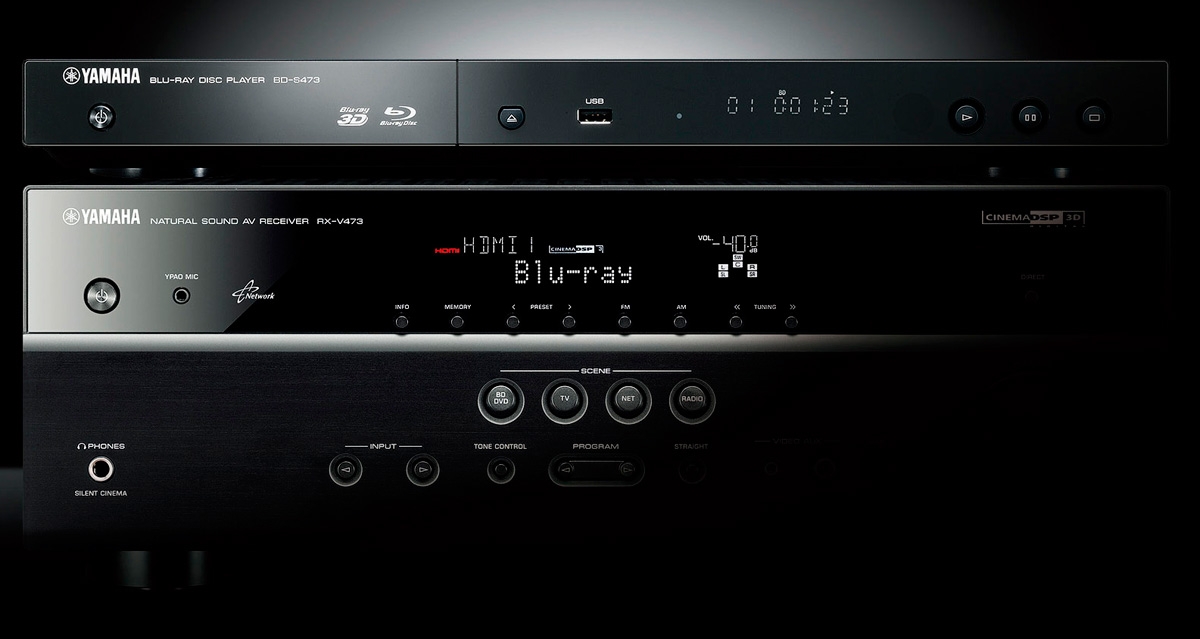 (opens in new tab)
At the other end of the scale, Willy Wonka's Chocolate Room is an assault of bold greens, reds and purples, but at no point do you question the authenticity of the palette – it looks as natural as a magical chocolate factory can. It's also assured with subtler shades like the children's skin, making it not too red but far from pallid.
What's more, edges are smooth and sharp, plus motion is handled without any tracking issues. 3D pictures look dazzling too, sucking you in with their convincing depth and gobsmacking detail. The quality of YouTube videos varies but everything I streamed was perfectly enjoyable.
What's also pleasing about the Yamaha BD-S473 is that it makes a decent music source. No match for a dedicated CD player perhaps, but there's a smoothness and sense of balance about its performance that should please most ears.
Verdict
If you're looking for an abundance of Internet apps, slick, sophisticated onscreen presentation and a radical design, strike the Yamaha BD-S473 off your list. But if you want a robustly made machine that does the basics well, delivers eye-popping pictures and throws in a few treats to keep the interest up, then give it a whirl.
The only issue is the price, which is relatively high for a player so light on features and connectivity. Most disappointing is the lack of built-in Wi-Fi, which ultimately makes players like the LG BP420 (opens in new tab) and Panasonic DMP-BDT220 look like better value.
| | |
| --- | --- |
| Manufacturer and model | Yamaha BD-S473 |
| HDMI output | 1, v1.4 |
| Component video output | No |
| Composite video output | No |
| Ethernet | Yes |
| Digital audio outputs | No |
| Dolby TrueHD decoding | Yes |
| DTS HD Master Audio decoding | Yes |
| USB port | 2 |
| Built-in Wi-Fi | No |
| iPod/iPhone support | Yes |
| DLNA media streaming | Yes |
| Smartphone control | Yes |
| Online content | YouTube Leanback |
| 3D ready | Yes |
| 2D-to-3D conversion | No |
| Supported media formats | MKV with H.264, MPEG PS, MPEG TS, MPEG-4, VOB, AVI, ASF, WMV, AVCHD, MP3, WMA, AAC, WAV, FLAC, JPEG, GIF, PNG |
| Dimensions (main unit) W x H x D | 435 x 50 x 202mm |
| Weight | 2kg |